Some examples of the types of control gear held in the collection:
These are just some of the many examples of various types of control gear held in the collection.
BILL SL3 streetlighting 5w single-pole fuse box.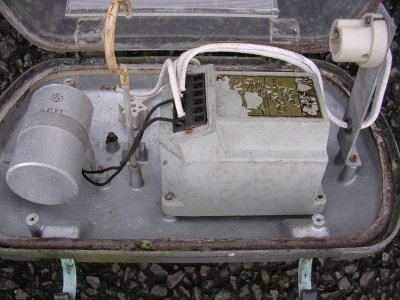 A BTH 'tapped' ballast designed for use with 45w, 60w, or 85w SO Sodium Vapour Lamps. It is pictured inside a BTH 'Amber' lantern dating from the late 1950's. BTH and Metropolitan Vickers were part of the larger AEI Group, both companies supplying ballasts of this shape and design. See here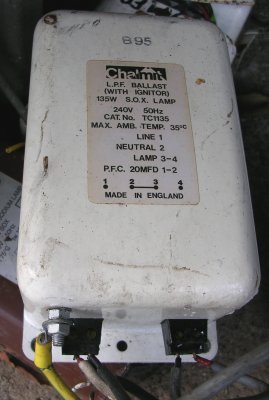 Chalmit LPF ballast for 135w low-pressure SOX lamps. This is likely to be a 'Parmar' made ballast, but has been labelled as a 'Chalmit' product. The 'B95' would suggest that it dates from February 1995. This ballast came off the A46 in Nottinghamshire in 2007, following a SON for SOX lighting conversion scheme, where it would have powered a GEC 9554M lantern.
Eleco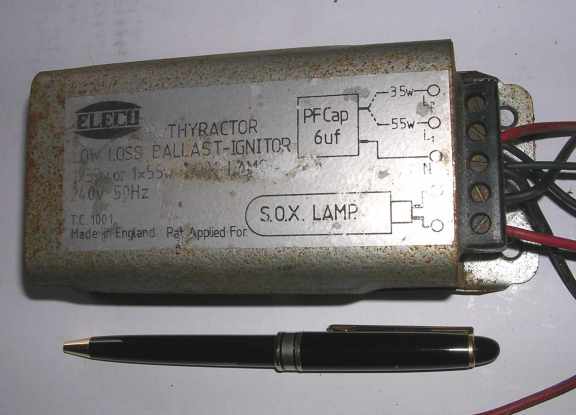 Eleco Thyractor 240v/50Hz low-loss ballast for 35w and 55w SOX sodium. lamps
ESLA wall-mounted 'conduit' fuses boxes with single-pole porcelain fuse carrier for cartridge type fuses.
GEC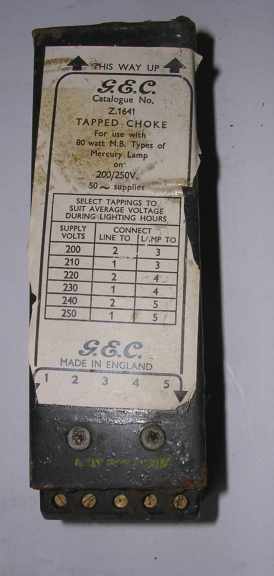 GEC Z1641 240v/50Hz tapped-choke for use with 80w MB lamps. Saved by contractors from a redundant column in Wolverhampton in 2005.
The GEC Z8175 was designed for use with 400w MA lamps and is an absolute monster of a choke. Below the choke is the porcelain fuse holder and below that the oil filled capacitor. This unit along with the GEC Z8228 'Clearmain' lantern it powered, was rescued from a demolition site in Burton-upon-Trent in May 2007.
Close up of the Z8175s label idicating the different taps allowing for variations in average mains voltage.
Kit-Kat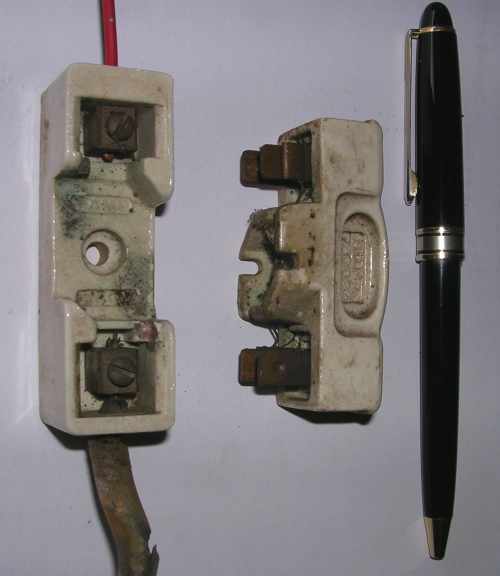 Kit-Cat Porcelain 5amp fuse holder from ESLA control box Circa early-1950's.
Metro-Vick MRG502 215-255-volt / 50Hz choke for 400w MA mercury lamps. This once operated a GEC 'Clearmain' lantern at a colliery in Cannock, Staffordshire during the 1950's and 1960's. After years of disuse, it was rescued out of a GEC concrete column in August 2006. Metropolitan Vickers and BTH were part of the larger AEI Group, both companies supplying ballasts of this shape and design. See here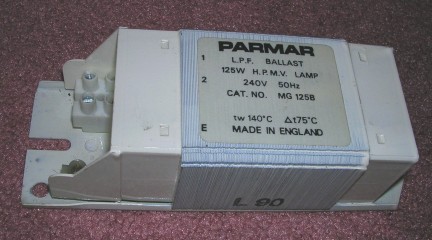 Parmar NG125B 240v 50Hz HPMV Ballast for 125w MBF lamps

Parmar 1A-242 240v/50Hz 'Starterless' ballast for 2 X 2ft 40w MCF Fluorescent tubes.
P.E.D.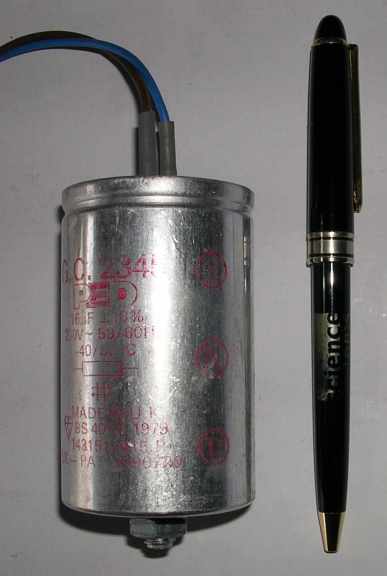 P.E.D GC2345 240v 50/60Hz 16uF capacitor, suitable for use with 35w/55w sodium leak-transformers.
Philips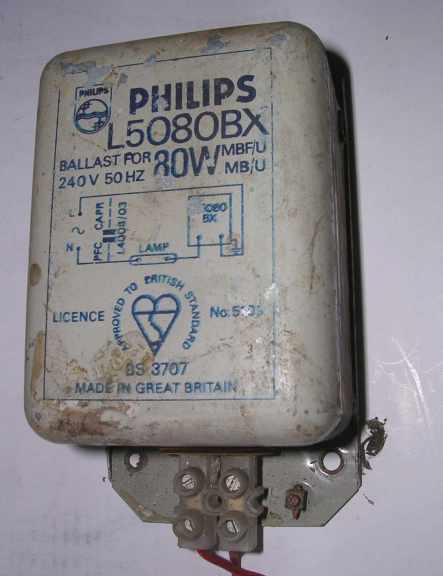 Philips 240v/50Hz L5080BX ballast for 80w MBF/U and MB/U lamps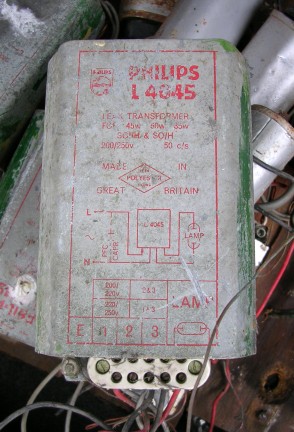 Philips 240v/50Hz L4045 ballast for 60w SOI, 60w SO/H lamps. This example came from a decommisoned installation in Barnsley, South Yorkshire.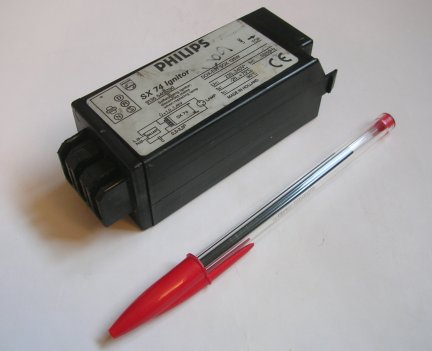 Philips SX74 ignitor for 135w SOX lamps
REVO / Relite / Simplex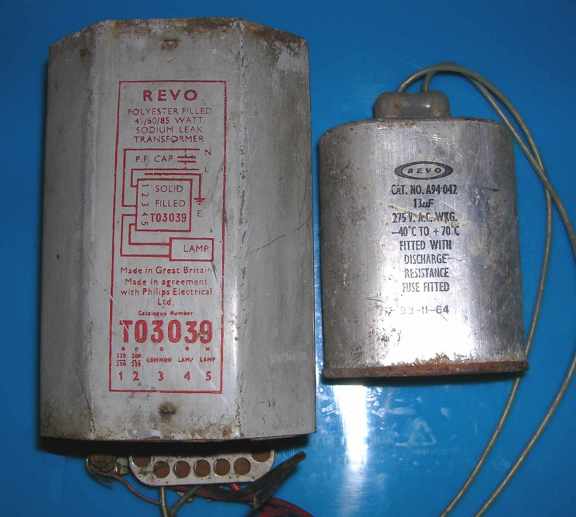 REVO (Philips under licence) T03039 Leak-Transformer for 45/60/85w sodium Lamps with Revo A94-042 PF Capacitor.
Simplex MA80S ballast for 80w MBF lamps. This is likely to be a Parmar, or Philips product labelled for Simplex Lighting Ltd.
SABS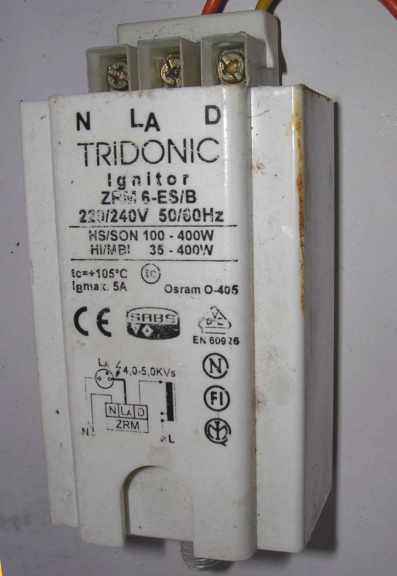 SABS Tridonic ZRM6-ES/B 220/240v 50/60Hz Ignitor for HS/SON 100-400w and HI/MBI 35-400W lamps.
SB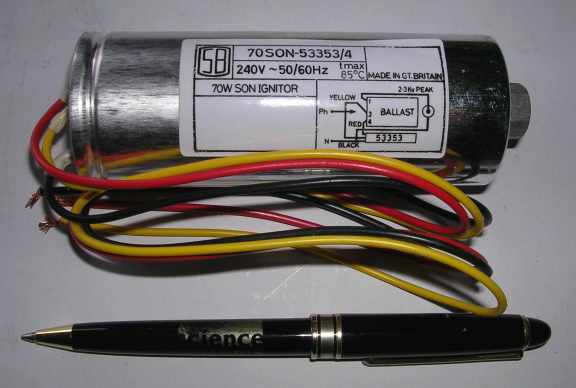 70SON-53353/4 240v 50/60Hz 70w SON ignitor
Thorn / Thorn EMI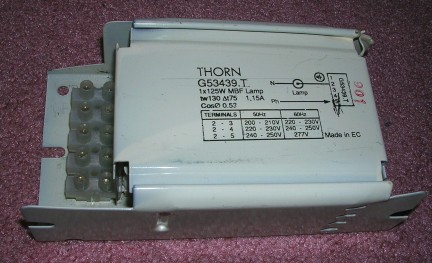 Thorn G53439.T 240v 50Hz Ballast for 125w MBF Lamps.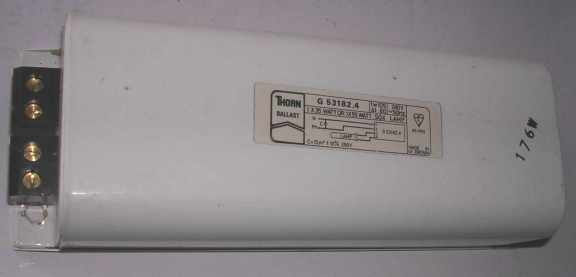 Thorn G53182/4 240v/50Hz ballast for 35w and 55w SOX lamps;
as used in the 'geared' Thorn Beta-8 lantern.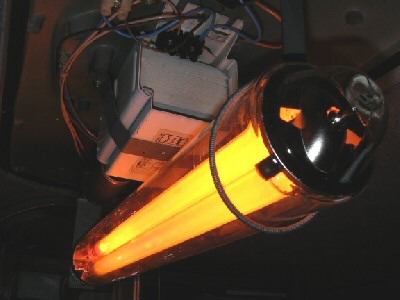 Thorn G???? 240v/50Hz Self-start ballast for 90w SOX lamps operating a Osram 90w SOX lamp.