Lanterns and streetlighting apparatus of unknown manufacture and model type are listed here in the hope that someone might be able to identify them. Once identified, they can be allocated to the correct section of the site.
| | | |
| --- | --- | --- |
| | Open refractor sodium lantern for SO/H lamps | |
| | GLS lantern and cast iron column | |
| | | |
| | Fluorescent fitting in Staffordshire | |
| | Concrete swan neck column in Staffordshire | |
| | 80w MBF side-entry lantern in Mansfield | |
| | 140w SO lanterns in Derbyshire | |
| | Top-entry lantern in Nottingham | |
| | Side-entry lantern for 250w/400w MA/MB lamps | |
| | Top-entry lantern in Shropshire | |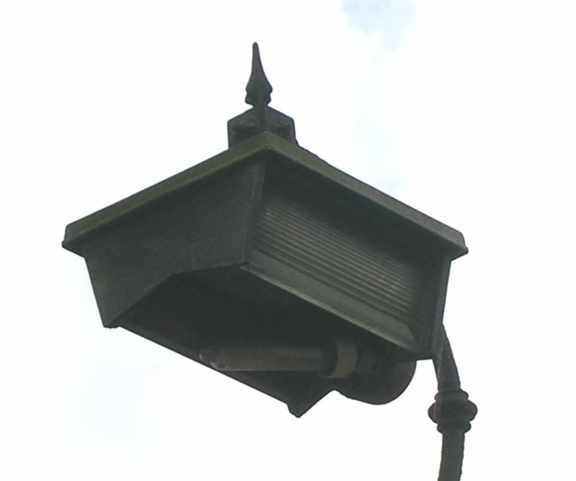 An incredible survivor in Nottinghamshire in 2006 is this unidentified open-reflector lantern, which still has an SO/H lamp fitted to it. Colin Grimes is sure this is an early Eleco lantern, but doesn't know the model type; can anyone else help with the missing details?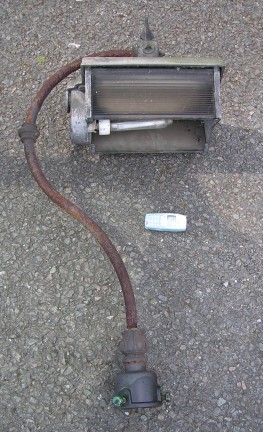 Here's another picture of the lantern after it was acquired for the collection on 7th June 2006; the mobile phone gives an idea of scale. Does this give any more clues?
I'm still wondering if it's a REVO product because the column, bracket, and the control-gear were all made by REVO, but there is no name or identification number that I can see on the lantern? Internally, it has an enamelled Gull-wing reflector above the lamp, which is a feature REVO used in some of their early sodium lanterns.
Unidentified: 2 Part Identified
This wonderful old GLS lantern mounted in a harp bracket on top of a very tall cast iron column was still extant in a car park in Staffordshire in 2005. The make of the lantern, bracket, and column are unknown. My thanks to Pete Owen who has identified the lantern as a Metropolitan Vickers SS-Fifty-One. This just leaves the bracket and column to identify.
As can be seen from this picture, the cast iron column is very tall and looks to be of a type that would have once been used for main road lighting.
Unidentified: 3 (bracket & control box)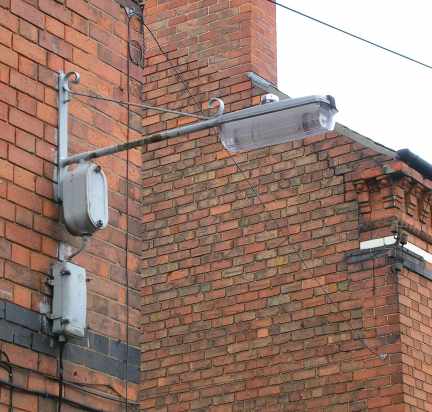 Now fitted with a Thorn Beta-2 lantern, this unidentified wall mounted bracket is seen in Beeston, Nottinghamshire in July 2005. It's not possible to make out the lettering on the control box door, but the local council used both REVO and ESLA brackets in the distant past, as well as a few other makes; but which is it?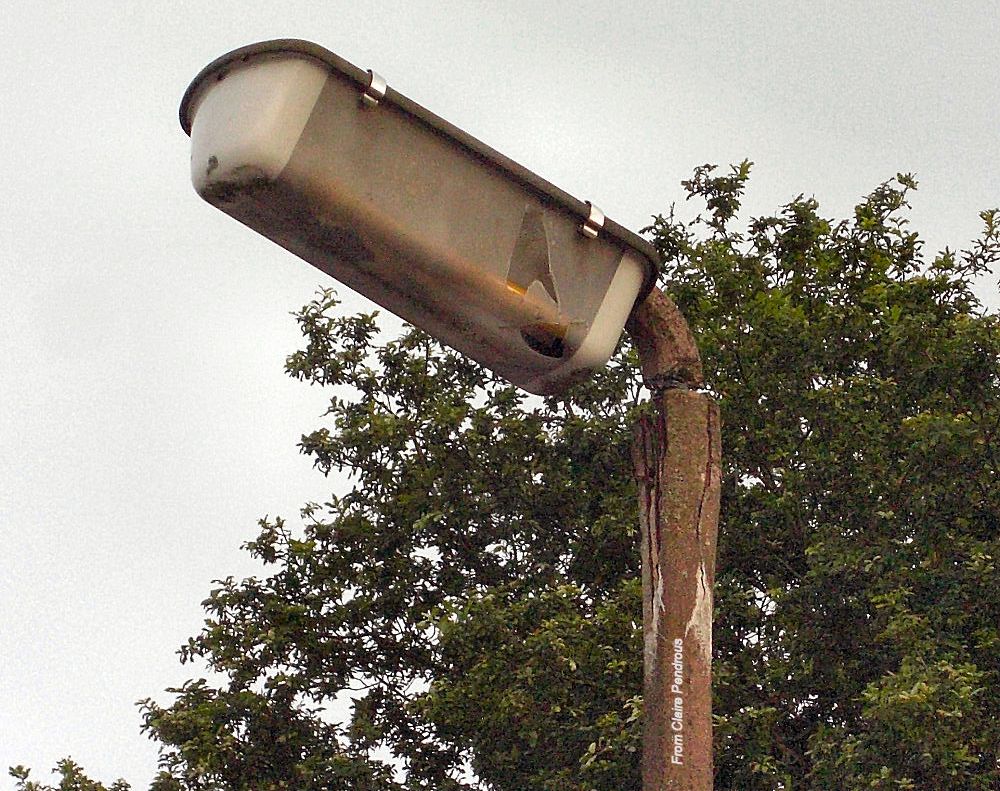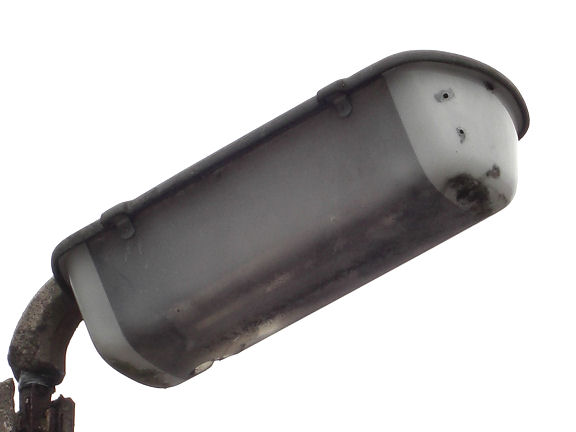 When I first saw this some years ago, I thought that it was an AEI Residential. However, on closer inspection and possessing a better knowledge of the subject; clearly it's not! The stainless steel clips have a Philips look about them, but I have never seen any data on such a fitting from Philips. I would guess that the lantern dates from the early 1960s.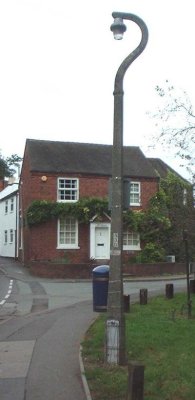 Still fitted with its original prismatic glass bowled Revo Bell Top lantern, this is one of two identical columns that remained in High Street, Kinver, South Staffordhire back in 2004. I thought that it might be a Concrete Utlities 'Byway' Column? Likely to be a CU 'Avenue' column?
Is this small 80w MBFlantern in Mansfield, Notts, a Phosco, or possibly a Thorn/Atlas product? This lantern had been replaced with a WRTL SRL55 by February 2007.
Unidentified: 7 POSSIBLY IDENTIFIED
This unidentified 140w SO sodium lantern is one of two in a pub car park off the A615 in Derbyshire. Amazingly both lanterns are complete and in very good condition.
From the front the lantern almost looks like a AC Ford AC482 lantern with it rounded front and flat top, but the flat back to the canopy and the taper on the back of the bowls suggest otherwise. 29th October 2006: These might be Wardle 'Atholl' 85w/140w sodium lanterns?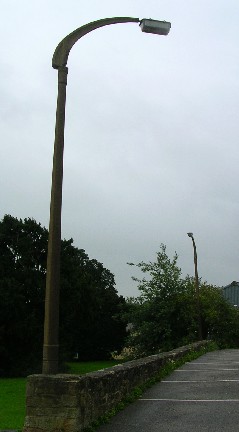 Both lanterns are mounted on ancient Stanton 8B concrete columns and look to have been left over from an earlier development on the site. I've known about these streetlights for sometime, but I never seem to have my camera with me when I've been passing; typically on the day that I did have my camera the weather was rather dull and damp. Picture August 2006
Unidentified: 8 POSSIBLY IDENTIFIED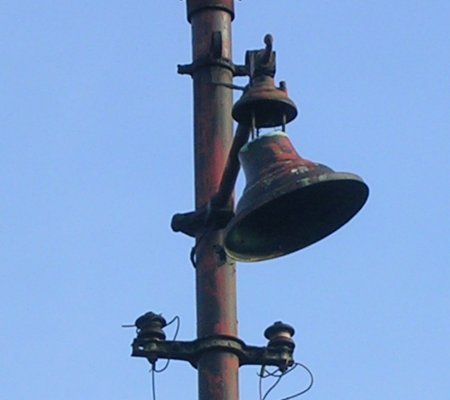 This old copper-spun top-entry lantern still exists at the gates to Nottingham's Cattle Market, but any ideas as to what make and model it is? This is now thought to be the remains of a REVO C10067 (14" diameter) lantern for 80w/125w MBF lamps, and would have once been fitted with a non-axial asymmetric glass refractor bowl. Update: This lamppost and fitting had been removed by early 2010.
Unknown side-entry lantern for 250w/400w MA/MB lamps pictured in Welshpool. Could this be an old Simplex or REVO product?
This unknown top-entry lantern for either small wattage tungsten or MBF lamps is seen on the A458 near Shrewsbury. The long disused lantern looks similar to a Phosware P132, but the canopy shape isn't quite the same and the rim appears to be a little too big in diameter. Any ideas? The control box is by Wardle of Manchester, so maybe the lantern's by Wardle too?
---
Copyright(c) 2005 - 2010 Claire Pendrous. All rights reserved.
Please note that all pictures are by Claire Pendrous, or are part of the Claire Pendrous photographic collection unless otherwise stated; none of these images can be copied without obtaining prior permission.