Makers of streetlighting columns, lanterns, bus shelters, and other road furniture products.
ABACUS AL4000 'Orion' post top Lantern
The Abacus AL4000 'Orion' lantern is a modern concept-type post-top lantern that has found favour with both local councils and commercial concerns such as Tesco, who use them to light their supermarket car parks in the UK. The lantern pictured is seen in a Council carpark in Sutton In Ashfield in Nottinghamshire (the town where it was manufactured). My thanks to Davy Warren, Andrew Stanley, and Tim Luckett for the information on this lantern.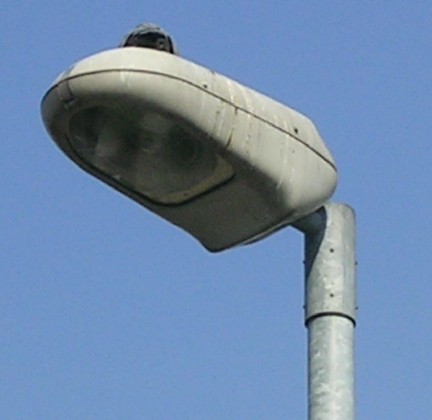 This Abacus AM6500 250w SON-T lantern (complete with pigeon) is one of several located on the car park of the ASDA supermarket in West Bridgeford in Nottingham
---
Copyright(c) 2005 Claire Pendrous. All rights reserved.
Please note that all pictures are by Claire Pendrous, or are part of the Claire Pendrous photographic collection unless otherwise stated; none of these images can be copied without obtaining prior permission.