WRTL MRL6 150w/250w HPS lantern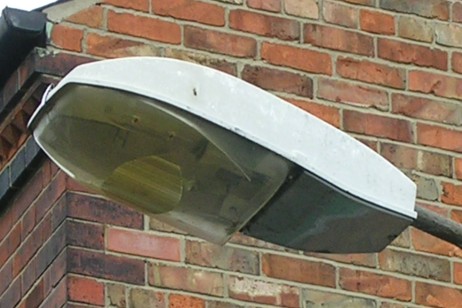 Formerly a GEC design (Z8600 series), this lantern became WRTL's MRL6, which stands for Main Road Lantern 6. There are 1000's of these lanterns to be found all over the UK. This wall mounted 150w example was pictured in Beeston, Nottingham.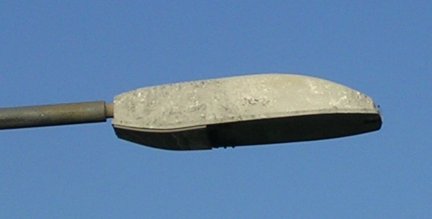 A Siemens/WRTL MRL6 full cut-off flat lens lantern on the M6 at Junction-11. These were in the process of being replaced with Urbis ZX3's in late 2006.
Just a handful of these MRL6 full cut off lanterns remained on the M6 at Junction-11 in November 2006. The Northern intersection of the M6 Toll Road is seen in the distance; this junction is lit entirely with post-top mounted WRTL Vecta-3's, which are just visible in the distance (see WRTL Vectra below). Picture taken from off Junction 11, looking northbound on 18th November 2006.
WRTL MRL8 250w HPS lantern
The WRTL MRL8 was formerly Thorn Lighting's later model Alpha-8 with GRP canopy. Made until recently by WRTL, this lantern remains popular with the streetlighting industry for main road lighting. This nearly-new Broxtowe Borough Council example is photographed at Chilwell in Nottinghamshire.
Flat lens MRL8 full cut-off lantern is seen in Welshpool, Wales in October 2006.
A remote-geared WRTL MRL90 lantern (formerly GEC Z9454) for 90w SOX lamps, pictured at Watnall, Nottinghamshire in June 2006. The lantern appears to have a GRP canopy, but is in fact a cast-aluminium canopy with a white finish added to it by WRTL to make it appear more modern. This lantern is now discontinued from the WRTL range.
WRTL MRL135 135w LPS lantern

Another ex-GEC design (Z9554M) is the MRL135, one of the most commonly used 135w sodium lanterns to be seen on roads in the UK. This example was photographed in Toton, Nottinghamshire.
WRTL SRL8 70w HPS lantern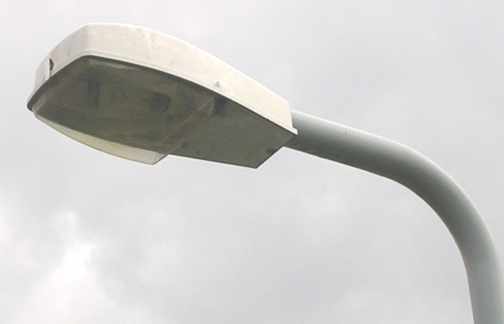 Yet another ex-GEC (Z8830 series) design inherited by WRTL, is the re-classified SRL8, standing for Side Road Lantern 8 for low wattage HPS lamps. This one was photographed in Beeston Nottingham in 2005.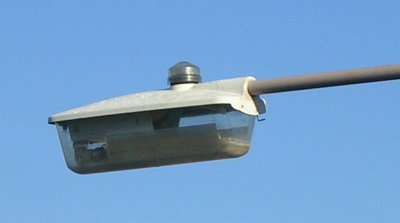 WRTL SRL55 55w SOX lantern is also another ex GEC product (formerly Z9538M); this example is seen in Mansfield Woodhouse, Nottinghamshire in February 2007.
WRTL Vectra HPS/MH lantern
A rival to Philips SGS305/6 'Trafficvison' lanterns, is WRTL's Vectra range of lanterns. The Vectra is available in 3 sizes for different wattage lamps: Vectra-1, Vectra-2, and the Vectra-3 being the largest of the range and designed for use with 250/400w HPS/MH lamps. This flat lens cut off Vectra-3 was pictured on the M6 Toll-Road Motorway in Staffordshire.
Industria/WRTL IRIS lantern
The WRTL IRIS lantern is an integral geared lantern for either side-entry or column-top mounting. WRTL make several versions of the IRIS lantern in three different lantern sizes (Length: small 580mm, medium 690mm, large 800mm), for both SOX and CFL lamps of various wattages. The lantern pictured is an IRIS-90 for use with conventional 90w SOX lamps and is pictured in Calverton, Nottinghamshire in June 2006. Nottinghamshire County Council currently use the IRIS-90 for ad-hoc lantern replacements in existing 90w SOX installations in the County; this lantern was a replacement for a defective Philips MA90-OO MKI.
This a shorter WRTL IRIS lantern for 35w PL-L lamps and is seen near Cannock, Staffordshire in August 2005. It is a replacement lantern for a GEC Small Oxford lantern that had previously adorned the same swan neck bracket.
Post-top mounted 55w PL-L variant of the IRIS seen in a side road on a residential development in Featherstone, Staffordshire on the last day of 2006.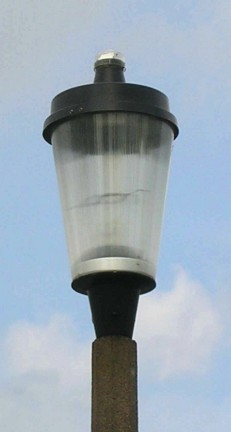 The WRTL PTBTL55N post-top lantern for 55w SOX lamps is an old GEC design. The example pictured is one of several to be found in and around Stapleford in Nottinghamshire.
The Industria/WRTL Arc-2 lantern for 150w/250w HPS/MH lamps. Constructed from cast aluminium, these lanterns are of a very pleasing design and are becoming popular with local authorities and streetlighting contractors in the UK. This 150w HPS column-top mounted example is seen in Borrowash, Derbyshire.
WRTL/Industria 2500 lantern
WRTL/Industria 2500 lantern for 36w PLL lamps. This is one of the many Industria 2500's used to replace some of the old mercury fittings in South Staffordshire; this one was photographed in the village of Bilbrook.
Industria/WRTL 2600 lantern
A newly installed Industria 2600 for 70w SON lamps is seen on its equally new column in Wolverhampton in May 2006.
Industria/WRTL 2015 post top lantern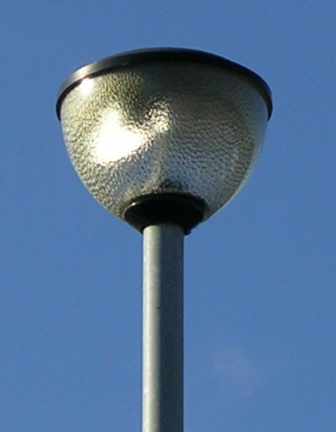 An Industria 2015 post top lantern for 70w SON lamps; this example is in Carlton, Nottingham.
Industria/WRTL Delta lantern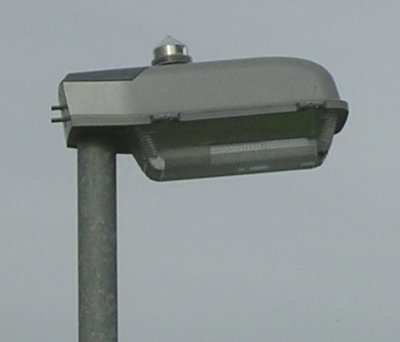 The Delta is an aluminium canopied version of the popular, but less aesthetically pleasing Industria 2600. This 70-watt SON version, mounted onto an Abacus 'Raise and Lower' column is photographed on a footpath in the village of Bingham, Nottinghamshire in March 2007.
---
Copyright(c) 2005 Claire Pendrous. All rights reserved.
Please note that all pictures are by Claire Pendrous, or are part of the Claire Pendrous photographic collection unless otherwise stated; none of these images can be copied without obtaining prior permission.