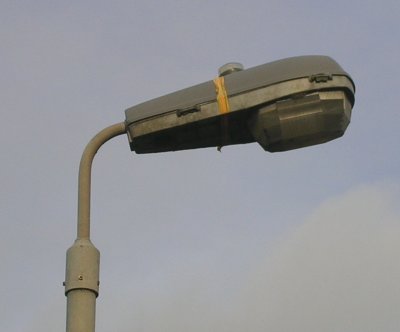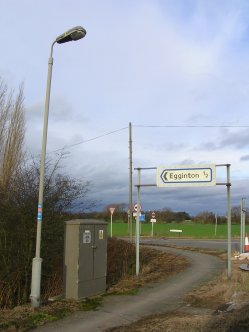 This taped up and rather weather beaten Urbis ZX1 is fitted with a refractor type bowl; it's one of several to be found perched on 'raise and lower' columns that preside over electrical feeder pillars situated alongside the A38 in East Staffordshire. I'm not sure whether these lanterns act as the master-switches for the sections of group-switching of the streetlighting along this busy section of the A38?
One of the more unusual variants of the ZX1 in the UK is this version with a deep-clear bowl for semi-cut off light distribution. This particular example is fitted with anti-glare shield to prevent light spill from the lamp shining through the windows of the houses behind. The lantern, which is fitted to a Stainton hockey stick column was photographed in Wolverhampton in April 2007.
The Urbis ZXU1 is Nottinghamshire County Council's current lantern of choice for side road lighting in the County. The ZXU1 can be fitted either as a side-entry lantern, or as a post-top lantern; the 'U' in ZXU1, indicating Universal fitting. This 70w SON-T fitted example is seen post-top mounted onto a 6m Fabrikat column in Selston, Nottinghamshire in late November 2006. It is part of a new installation that has replaced elderly GEC Z9538M 55w SOX lanterns on steel columns with out-reaches .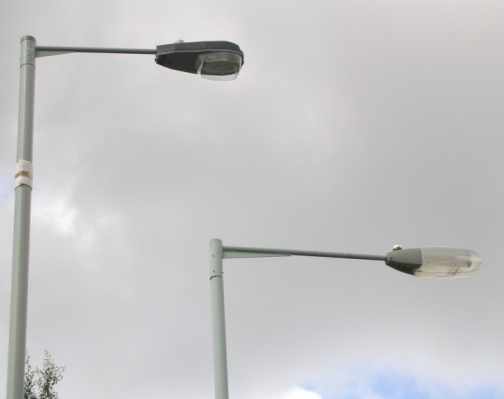 This replacement Urbis ZX2 150w HPS lantern on its new steel column awaits the disconnection and the imminent removal of the elderly Alpha-One lantern in Northwood Park Estate, Bushbury, Wolverhampton in August 2005.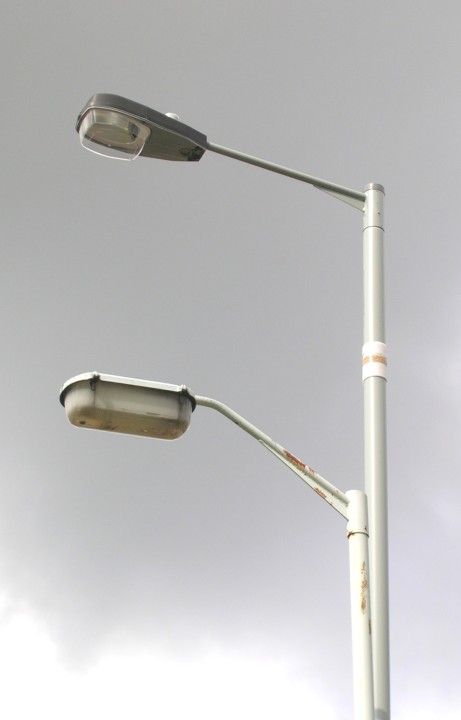 On the same estate in Bushbury, Wolverhampton in 2005, a 90w REVO 'Dalek' awaits a similar fate to the Alpha-One; the 150w HPS ZX2 is days from being connected and being put into use.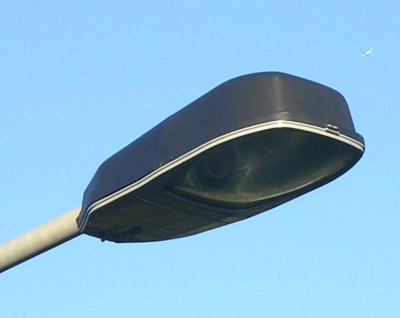 Seen at Burnaston on the A38/A50 interchange, this ZX3 is one of hundreds to be found on the A38 between Fradley in Staffordshire and Burnaston in Derbyshire. These popular cut-off lanterns are 150w SON variants and were installed in 2005-2006 replacing aging Philips MA60 180w SOX lanterns. If you look carefully at the picture you'll see an airplane high in the sky that had just departed Nottingham East Midlands Airport. Picture December 2006.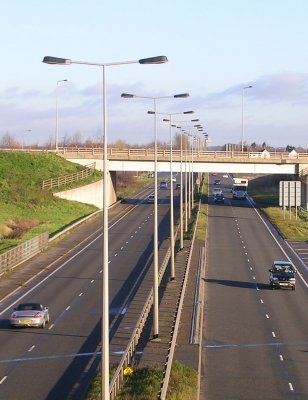 A general view of the A38/A50 interchange at Burnaston, Derbyshire showing some of the many ZX3's on twin-arm brackets that adorn the central reservation of the A38 at this location. Picture December 2006.
This very square, bulky looking lantern is the Urbis ZX4 modified for use on pedestrian crossings. It uses a 250w Metal halide lamp. The picture was taken in a suburb of Wolverhampton in April 2006.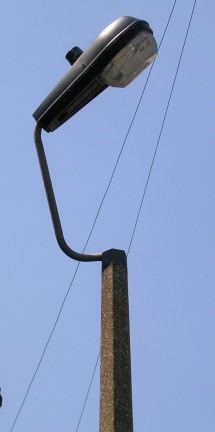 The Urbis ZX12 is really a smaller version of the Urbis ZX2, although it also shares many similarities with the ZX1. While the ZX12 can use the same type of reflector bowl as some ZX1's, it can be distinguished from the ZX1 because like the ZX2, it doesn't have the characteristic 'OXO' grid cast into its underside; nor does it have the four canopy securing clips at the side of the lantern body that are so noticeable on the ZX1. The ZX12 pictured has been mounted onto an old Concrete Utilities column in Sheffield, replacing a failed GEC Z9480 lantern. The new fitting looks to have been deliberately angled up in a attempt to throw more light on to the road junction that it presides over. Photograph taken in June 2006.
Urbis Opalo 70w SON lantern on wall mounted bracket in Dollegau, North Wales in July 2005.
Urbis Sapphire-1 lantern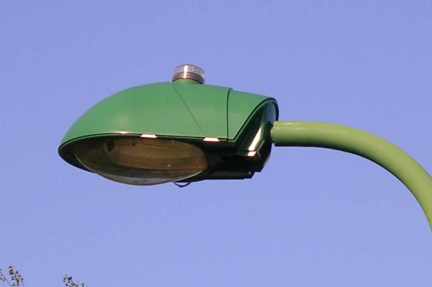 This factory finished green painted Urbis Sapphire-1 lantern near Strelley, Nottinghamshire is for use with CDM-TT 70w metal halide lamps; these lanterns are used to illuminate footpaths on the approach to an industrial estate.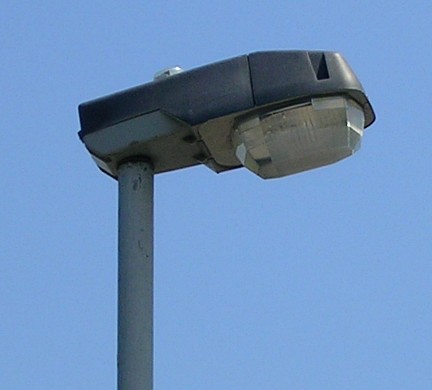 The Urbis Sintra lantern was rather bulky and an angular design of lantern that looked out of place wherever it was installed. This example for 70w SON lamps is seen in Wednesbury in the West Midlands in June 2006.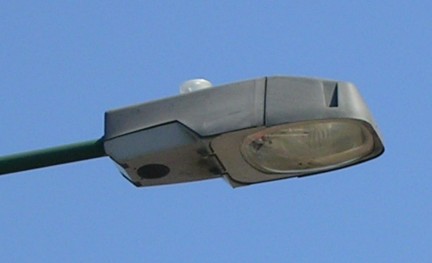 This bracket mounted Sintra is the cut-off version of the lantern above. Picture taken in Wednesbury, West Midlands in June 2006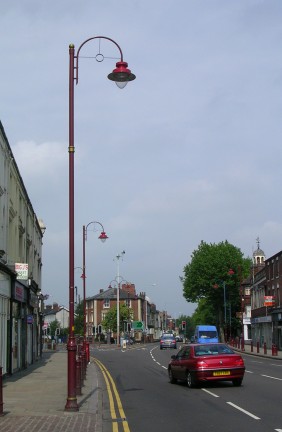 These Urbis Albany lanterns mounted on decorative Urbis columns were installed in Chapel Ash, Wolverhampton during 2005, replacing aging Simplex Jupiters on 10 metre columns. In the 50's and early 60's this section of road was lit by Revo Silver-Gold enclosed SO/H lanterns mounted on to trolleybus traction poles.
More information on Urbis Lighting can be found here.

---
Copyright(c) 2005 Claire Pendrous. All rights reserved.
Please note that all pictures are by Claire Pendrous, or are part of the Claire Pendrous photographic collection unless otherwise stated; none of these images can be copied without obtaining prior permission.