BLEECO: Brighton Lighting and Electrical Engineering Co Ltd, Brighton.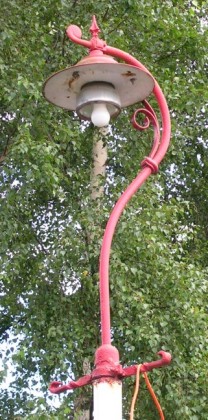 This lovely old Bleeco 'Sunstar' type No688 (?) open refractor type lantern is very typical of the type of lanterns produced by Bleeco in the 40's and 50's. The lantern sports a Duo-Dome 46XX series refractor ring, which was a double walled glass refractor. The refractor, coupled with the white enamelled reflective underside of the canopy would give some control over the light distribution from the lamp. This working example is pictured at Sandtoft Transport Centre, in South Yorkshire.
BLEECO No671-672 open-type conical lantern

This quaint conical open-type lantern is the BLEECO No671/2, a cheap and cheerful lantern for side road lighting where little or no lighting control was required from the lantern. There were three basic models of the type:
No 671 - a 12" diameter lantern for 60w-100w tungsten lamps
No672 - a 12" diameter lantern for 100-200w tungsten lamps
No673 - a15" diameter lantern for 100-200w tungsten lamps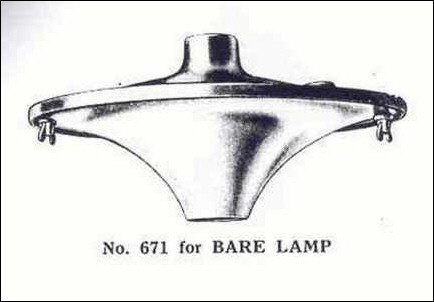 This illustartion of the No671 is taken from a BLEECO catalogue.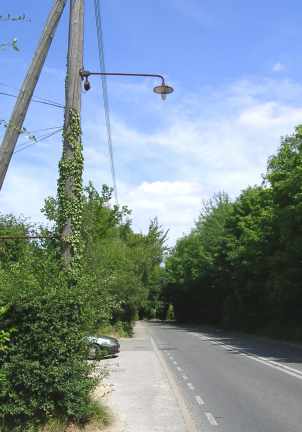 Now fitted with an MBTF mercury blended lamp, this BLEECO No671/2 lantern was pictured in Ansty, Surrey in July 2005.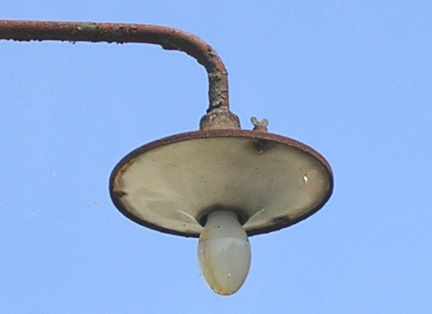 A close up picture of the No671/2 lantern at Ansty. The wing nuts seen on top of the canopy are incorrectly fitted and should actually be under the canopy (see catalogue illustration above). My thanks to Simon Cornwell for identifying this lantern.
---
Copyright(c) 2005 Claire Pendrous. All rights reserved.
Please note that all pictures are by Claire Pendrous, or are part of the Claire Pendrous photographic collection unless otherwise stated; none of these images can be copied without obtaining prior permission.