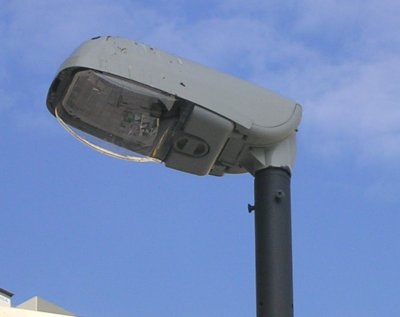 There are a few examples of the Siemens/Siteco SR50 in the UK, but this particular SR50 is quite at home in the City of Berlin, Germany where it is pictured in September 2006.
Siemens/Siteco SR200
The Siemens SR range of lanterns are now made in Germany by Siteco (pronounced Si-tec-o), but are still sold in the UK through their sales outlet in Manchester. The biggest of the SR range is the SR200 for use with 250w or 400w HPS lamps. This rather weathered cut-off example is seen in Lichfield, Staffordshire in 2005.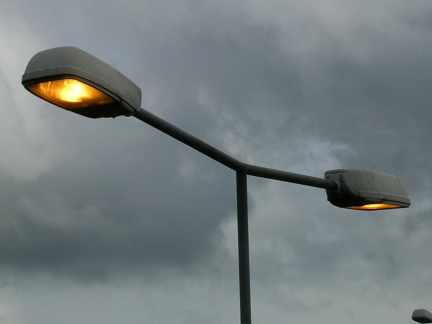 SR200 cut-off lanterns are also to be seen in abundance on the section of the A50 that runs through Fenton in Stoke on Trent. They were installed in about 1997-8, when this section of the A50 was built. This of a pair of SR200's mounted on a twin-arm bracket are seen under threatening skies in May 2006.
Siemens MRLBW 'Broadway' lantern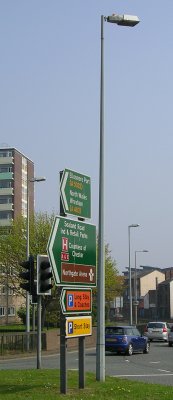 Albeit, in rather tatty condition, several examples of these Siemens MRLBW 'Broadway' lanterns for 250w/400w SON lamps can be found on the A56 near to the centre of the City of Chester.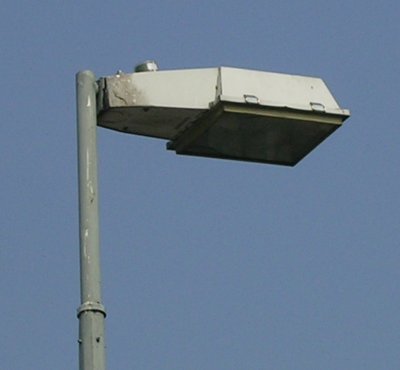 More common in mainland Europe than it is in the UK, the Siemens 'Broadway' is very similar to the Philips SGS204,

but is easily recognisable by its more

angular appearance.
Siemens HML400 High Mast Lantern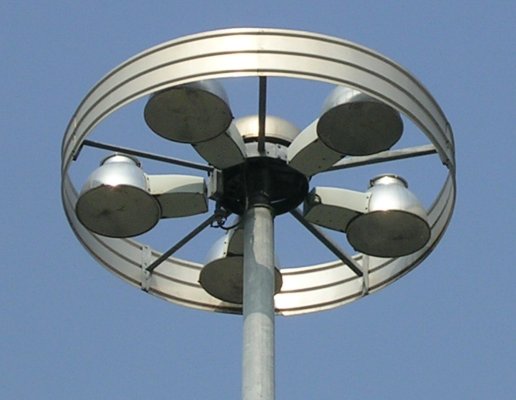 These five Siemens HML400's are one of two sets that preside over the The Roodee Coach Park in the City of Chester. Originally manufactured by GEC as their Z3430, these lanterns were later produced by Siemens as the HML400 (High Mast Lantern 400w), and then by Whitecroft Road and Tunnel Lighting (WRTL), when Siemens disposed of their street lighting division.
---
Copyright(c) 2005 Claire Pendrous. All rights reserved.
Please note that all pictures are by Claire Pendrous, or are part of the Claire Pendrous photographic collection unless otherwise stated; none of these images can be copied without obtaining prior permission.