Crompton Parkinson open-refractor lantern
Attached to its crumbling bracket is the sad remains of this Crompton Parkinson open refractor lantern for GLS lamps. The lantern is located at the disused WWII airfield at Langar, Nottinghamshire and is seen in March 2006. Update: 22nd February 2007. This lantern is now held in the Collection and was acquired in late 2006.
This general view shows the (Revo?) concrete column standing on the abandoned roadway to what was once the airfield's operations area.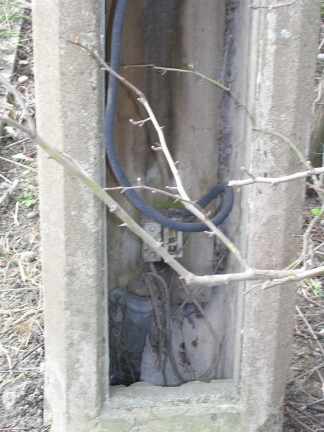 This slightly blurred photo shows the end of the feeder cable and the 'Bill' porcelain fuse holders situated in the base of the old column at Langar.
---
Copyright(c) 2005 Claire Pendrous. All rights reserved.
Please note that all pictures are by Claire Pendrous, or are part of the Claire Pendrous photographic collection unless otherwise stated; none of these images can be copied without obtaining prior permission.