Founders and engineers of cast iron products.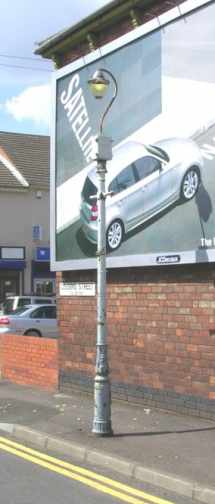 A pre-war LUCY cast iron column in Cousins Street, Wolverhampton in 2005. Sadly, its original LUCY swanneck bracket and open reflector lantern have long gone, replaced with the odd mixture of an AC Ford control box and bracket, and Thorn Beta-4 80w MBF lantern with GEC bowl! These columns are believed to date from the immediate post WW1 era. As with many of these first generation electric lighting columns, it's likely that this column started life in another part of the City, later being reused at this location. This LUCY column was removed in May 2006.
The majority of the cast iron columns used by Wolverhampton's streetlighting department were made by REVO, but these LUCY columns, although similar, are easily recognisable by their narrow bases. Like all cast iron columns in the City, this one has the Wolverhampton coat-of-arms cast in to the inspection door. A similar cast iron LUCY column is held in the collection.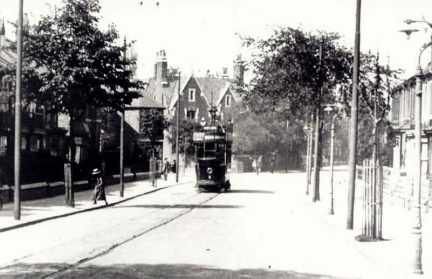 This picture of Waterloo Road, Wolverhampton was taken in Circa1921-22. Identical LUCY columns to the one in Cousins Street are evident to the right of the picture, and are seen with their original ornate LUCY swanneck brackets and open-reflector lanterns. The grand building in the background still survives to this day, but is now the 'Goalpost' public house.
Another LUCY column in Wolverhampton, but this one on the SW side of the City has been fitted with a REVO B.8712 (24inch) cast iron extension piece, AC Ford control box/bracket combination, and GEC Z5590 80w MBF lantern with incorrect bowl. Photo taken 12th August 2006.
---
Copyright(c) 2005 Claire Pendrous. All rights reserved.
Please note that all pictures are by Claire Pendrous, or are part of the Claire Pendrous photographic collection unless otherwise stated; none of these images can be copied without obtaining prior permission.