Control (box) freak
A bit of control box overkill when you consider that this A C Ford control box has been mounted on top of reasonably modern steel column with a base compartment, and that the MI26 35w SOX lantern is gear-in-head with photocell control! I can't think that there is anything inside the A C Ford box, unless the lighting engineers keep their sandwiches in it! ;-) Photo: Shrewsbury, 18th January 2007.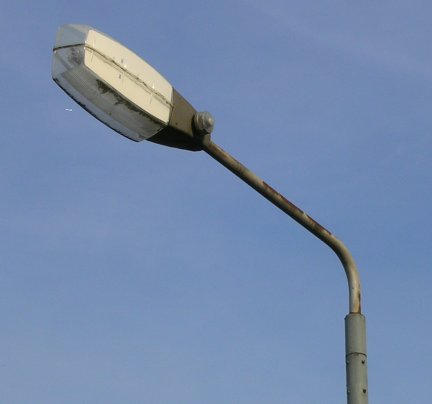 No real danger of unnecessary light spillage into the night sky from this Alpha-1 because it has long been disused. Maybe the wind has caused this lantern to twist through 90-degrees on its out-reach, but it's an unusual occurrence with these lanterns if it has. However, it does at least give us the unique opportunity to see the aluminium reflector plate in the top of the lantern (normally obscured from view when upright), and the troublesome seam that runs along the top of the Opticell that sometimes allows water ingress. The picture was taken on a garage forecourt in Nottinghamshire in October 2006.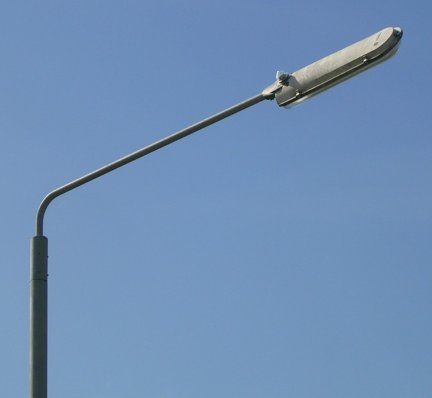 On the other hand, it's not uncommon to see the odd Philips MA fitting in this attitude, probably because they have a larger windage-area than other lanterns and therefore can be easily twisted on their brackets in high winds if they haven't been properly secured. This Philips MA90-GO is pictured in Sutton in Ashfield, Nottinghamshire in September 2006.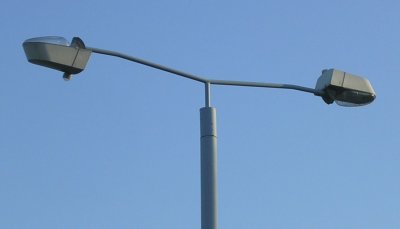 The adverse weather conditions and high winds that swept across Britain in January 2007, brought about widespread damage and distruption throughout the Country. Not surprisingly, street lighting fell victim to the weather with bowls being blown off lanterns and out-reach brackets being swung around on column tops. The SGS306 Philips 'Traffic Vision' is one lantern that doesn't fair too well in such conditions and is particularly vunerable to being upturned when side-mounted on to out-reach brackets. This completely upturned example is mounted onto a twin arm 'Fabrikat' bracket and was seen on the A52 near Ruddington in Nottinghamshire on 14th January 2007.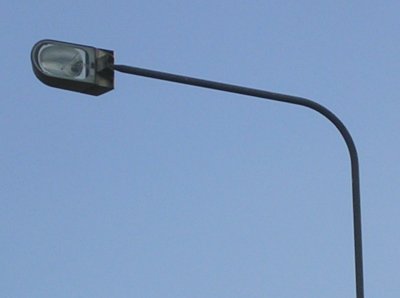 Here's another example of an SGS306 Traffic Vision in trouble; this flat-lens cut-off variant is on the A5 at Gailey in Staffordshire and is seen just a few days later on 18th January 2007.
Flood (ed) light!
The defective Opticell on this disused Thorn Alpha-1 has allowed the ingress of water, which in turn has corroded the steel lamp holder unit inside, resulting in the lantern eventually filling up with rust-contaminated water. It's amazing how the Opitcell's seam always appears to fail on the top of the unit, letting water into the lantern, but appears to remain watertight on the bottom half of the seam keeping the water inside! This defunct lantern was pictured on a garage forecourt in Nottinghamshire in October 2006.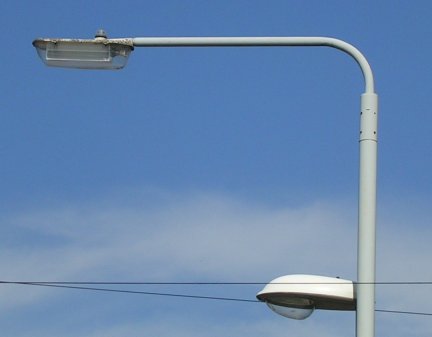 This odd view was created by the replacement post-top mounted Iridium lantern on a shorter 8m column, being located right next to the old 10m column with aging GR100 MKII 90w SOX lantern.
An unusual and solitary twin-arm bracket with identical Urbis ZX3 flat lens lanterns on the southbound ramp of the Alrewas junction of the A38 near Lichfield. The reason behind this experimental set up is not currently known.
High winds during January 2007 have taken their toll on this Stanton mounted 135w Thorn Alpha-5 in Mansfield, Notts
1. An Urbis ZX3 located on the A38 at Willington in Derbyshire has lost the front section of its fragile plastic canopy in high winds. Photo: October 2006.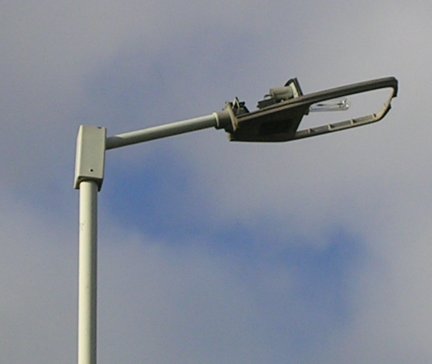 2. Another possible victim to high winds is this Philips SGS203 that has lost both its canopy and its flat glass lens; incredibly its lamp still remains intact despite being in this state for over 2-years. Photo: Cannock, Staffordshire, October 2006.
So whose bright idea was this?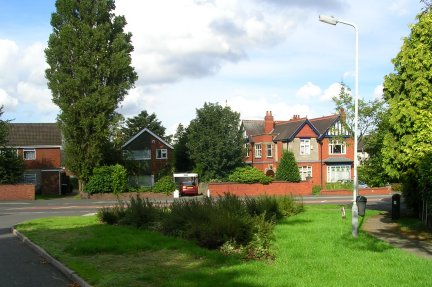 Not quite what it seems, but almost? Since this road junction had its kerb-line altered for road safety reasons a couple of years ago, this Beta-2 55w SOX lantern on a hockey stick column appears to be somewhat redundant; although still working in September 2006, it is now reduced to wastefully illuminating the shrubbery in front of it each and every night! Picture: taken at Ednam Road, Goldthorn Hill, Wolverhampton.
Hat-less, lamp-less and wrecked, might be one way of describing this vandalised Simplex Solumbra pictured in the Merridale District of Wolverhampton. It's understood that the hat was taken by vandals and used as a giant frisbee on the near by park! The poor lantern had been left in this state for months when this picture was taken in late September 2006.
Languishing linear lantern
A 140w SLI/H Alpha-5, bathes in the dying sunlight of a late September day; the last intact survivor of a small batch of these linear lanterns that once illuminated an industrial estate in Wolverhampton. Disused and blackened by age, this rare lantern faces another winter at the mercy of the elements.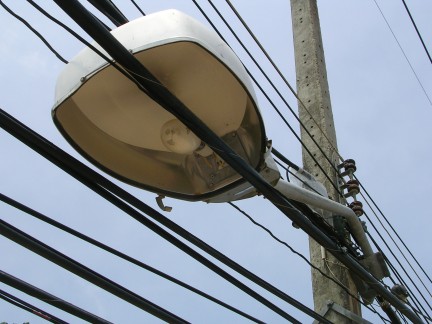 This CCH HS3 lantern has fallen on to insulated electric cables in Phuket, Thailand after one of its bracket mounting bolts failed, damaging the lantern in the fall.
That's another fine mess you've got me into!
This disjointed AC Ford AC762 lantern in Lichfield, Staffordshire so reminds me of one of those old Laurel and Hardy films, where Oliver Hardy emerges from some catastrophe looking dishevelled, and with his hat on skew-whiff!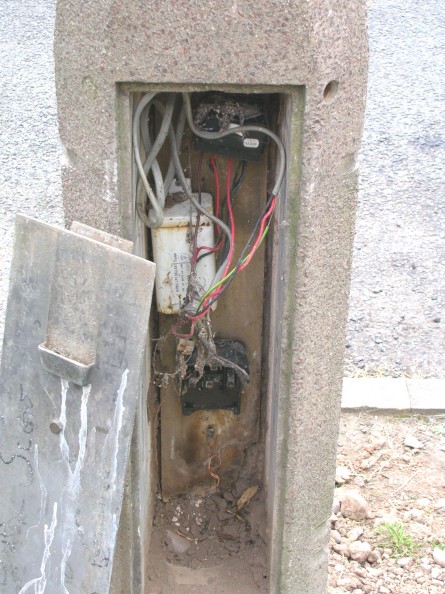 1. Stanton S7 column base compartment is seen open, after its disconnection from the feed supply. The remnants of the fuse box, intact 80w MBF choke, and photocell control switch have been left in situ. The picture was taken on Northwood Park Estate, Wolverhampton in August 2005.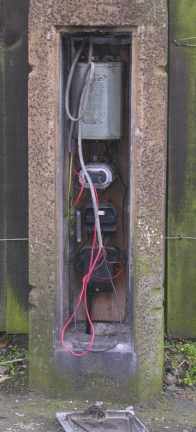 2. On the other hand the GEC control-gear for 35w SOX lamps in this Stanton column is 'live' and has been left exposed after vandals removed the inspection door.
3. Metro-Vick control gear for 250w and 400w MB lamps lies disused in the base of this concrete column in Alfreton Road, Derby.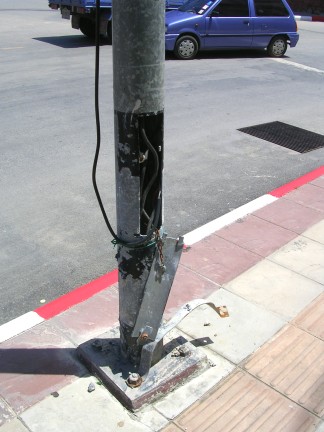 4. No, not an act of vandalism, but deliberately done by lighting engineers in Patong, Thailand to take a live feed off this column to another! The red and white painted kerb stones indicate 'No Parking' to motorists.
5. The door to this steel column has come adrift due to a corroded lock, revealing this neat little Philips L4080 choke that powers the 80w MBF lamped REVO Solumbra lantern mounted high above it. Picture taken in an alleyway off Langley Gardens, Wolverhampton in August 2006.
The door has come away from this Fabrikat column in Shrewsbury revealling the control gear for the 135w SOX lamped Philips MA50 mounted high above. From bottom to top is the old black Lucy fuse box, a modern Tofco cut-out above it with clear plastic cover. The white cylinder is the capacitor and just visible behind it is the Philips SX74 ignitor for 135w SOX lamps. Above that and partly hidden in the top of the base, is the brown-painted Philips BSX-135-H96 ballast, which possibly dates from 1996. Photo May 2007.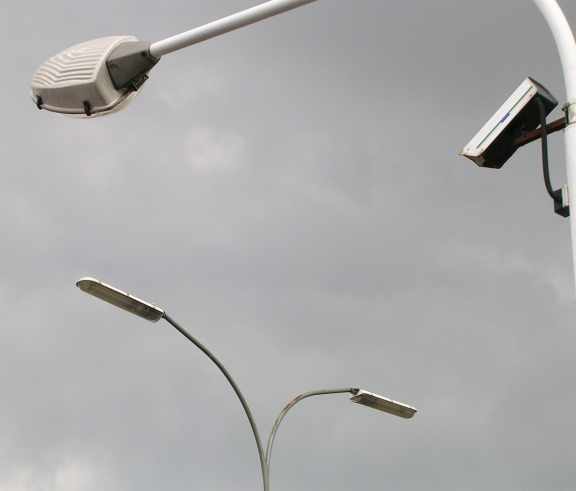 This rather surreal picture of an Atlas Alpha-3 and two Philips MA50's lanterns all mounted on curved brackets is reminiscent of a Red Arrows display! Picture taken in Long Eaton, Derbyshire in 2005.
1. This Thorn Beta-99 is seen mounted on the remains of a concrete bracket arm that's somewhat devoid of concrete. I've seen lots of cracked and crumbling concrete brackets, but nothing quite like this one! Photograph Sheffield June 2006.
2. The crumbling concrete on this 25ft Stanton and Staveley column in Retford Road, Sheffield has left the corroded steel inner structure partly exposed. As a result, both the column and bracket are now in a dangerous state and require urgent replacement or sleeving before the structure completely fails.
2A. The same column and bracket as above, but seen 'taped up' in late November 2006.
3. The bracket on this Stanton and Stavely column is also in a poor state of repair, but this example holding a Thorn Alpha-8 lantern aloft is located at Bestwood Park in Nottingham, some 40-miles south of the Sheffield example.
This deep-bowled Alpha-9 has come to an unfortunate end after its wall-mounted bracket failed through corrosion. Wolverhampton, August 2005.
Where do all the old streetlights go?
Just some of the many lanterns and brackets to be found in this particular depot yard (sorry, but I'm not allowed to give the name or location). Some of these lanterns are for refurbishment, while others are for cannibalisation and eventually scrapping. Amongst the pile were Diadems, Beta5's, AC850's, Beta-79's, GR70's, Gemini's, Pathfinders, MI50's, and many others.
Here's some more, including Sapphire's, Vectra's, Iridium's, and Philips MA's.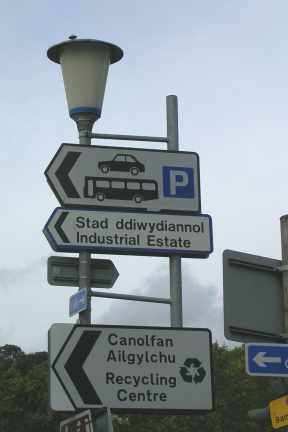 Seen in Dollegua, N Wales is this 35w/55w SOX post-top lantern, which must be up for a prize for having the most sign-cluttered column in the UK! The lantern appears to be a cross-breed between two different makes because it has a Simplex Solumbra base unit, but the bowl and canopy are from a GEC Z5676! Just in case you're wondering, the blue ring around the bottom of the cone is actually blue coloured insullation tape; probably something to do with the conversion.
Hanging by a thread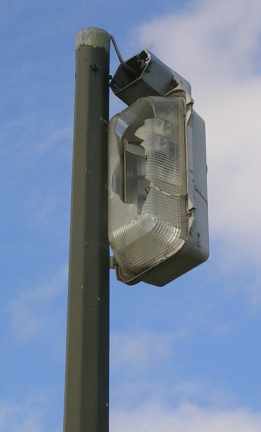 The WRTL/Industria 2600 lantern is supposed to be renowned for its durability as a vandal resistant lantern, but this decapitated example sited at a remote location on a footpath on the Leicestershire/Derbyshire County border illustrates that vandal resistant lanterns aren't really vandal resistant after all.
The flimsy plastic bowl that once graced this Beta-8 in Beeston, Nottinghamshire, must have proved too much of a temptation for local vandals at sometime in the past; the sustained attack has even claimed the porcelain lampholder!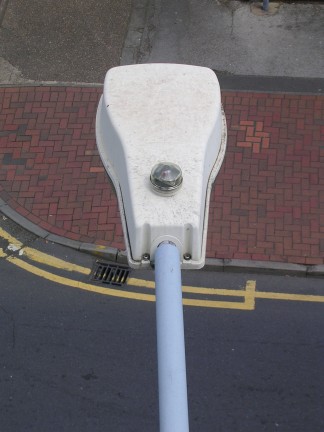 This is what it looks like from the top of a lamppost 10-metres above the road surface. This Alpha-8 with a Cableform SS5 photocell is pictured from the safety of a multi-storey car park in Beeston, Nottingham.
This bowl-less gear-in-shoe Thorn Alpha-3 in Ecclesfield, South Yorkshire has acquired a large wattage spot-lamp in place of the normal 250w/400w elliptical MBF lamp that should be fitted to it. Why? We'll probably never know, but the light distribution from the lantern should make an interesting pattern on the ground below!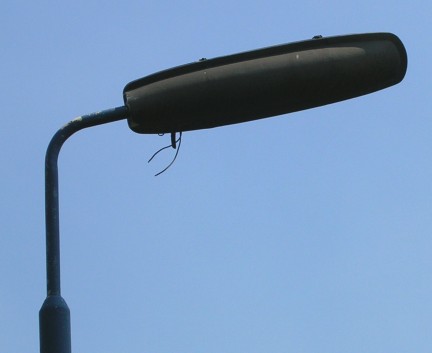 This ex British Railways GEC Z8260 MCF lantern is not only twisted on its bracket, but it also has the dirtiest and most discoloured bowl I've ever seen. Photograph taken in Sheffield June 2006.
A severely angled and weather-beaten Philips MI-36 55w SOX lantern attached to a very dodgy-looking bracket on an equally dodgy-looking telegraph pole. The picture was taken in the entrance to an old haulier's yard in Cropwell Bishop, in rural Nottinghamshire in June 2006.
Neat little repair...Not!
I know; I stared at it in disbelief too. I'm not sure which is the worst - the damage to the top-entry 35w Lucidor lantern or the appalling repair? Photograph taken at Great Barr, West Midlands, June 2006.
This Benjamin 'shovel' lantern with large wattage GLS lamp looks to be very unloved, especially as the potential repaint of the lantern ended at the support bracket! Photograph taken in Nottingham in June 2006.
---
Copyright(c) 2005 Claire Pendrous. All rights reserved.
Please note that all pictures are by Claire Pendrous, or are part of the Claire Pendrous photographic collection unless otherwise stated; none of these images can be copied without obtaining prior permission.