Phosco P103 pendant type lantern
One of two Phosco P103 lanterns that can be found in the arcade entrance to Burton on Trent Market and Market Hall.
Phosco P107 post-top lantern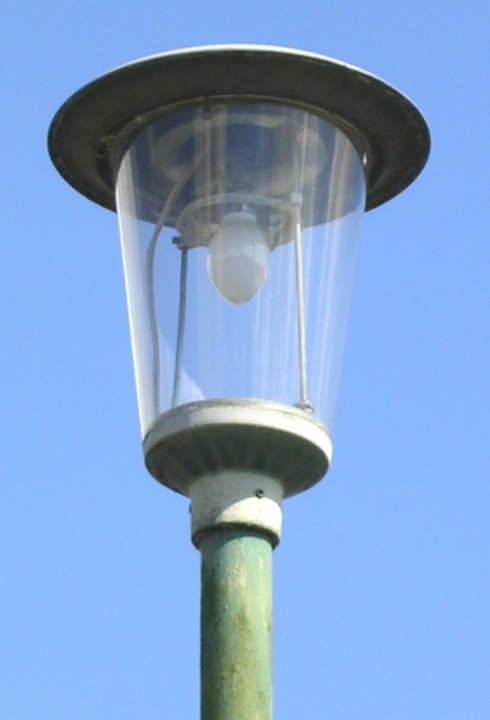 This Dudley Metropolitan Borough Council Phosco P107 post-top lantern with clear cone and 80w MBF lamp is photographed at Dudley in 2005.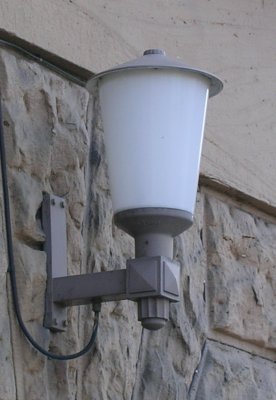 A Phosco P108A lantern is seen wall mounted on an ornate bracket in the grounds of Chester City's Crown Courts; the only example at this location, the lantern looks to have replaced a GEC Z5640 at sometime in the past.
An original 'copper topped' Phosco P109 'Paddington' post top lantern in Cambridge, one of several to found in the City. March 2010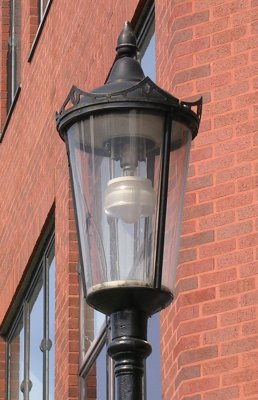 The elegant Phosco P109 'Paddington' post top lantern is usually to be found in areas of conservation throughout the UK. This is the later, and current model, this example was photographed in the City of Chester in April 2007.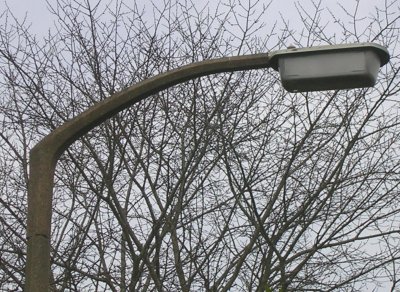 An amazing survivor in Kidderminster, Worcestershire in March 2007 is this Phosware P127 lantern, originally for 140w SO lamps, but now burning a 90w SOX lamp.
Pictured on a dull afternoon in March 2007, is this Phosco P151 250/400w MBF lantern situated on private land near Kidderminster, Worcestershire.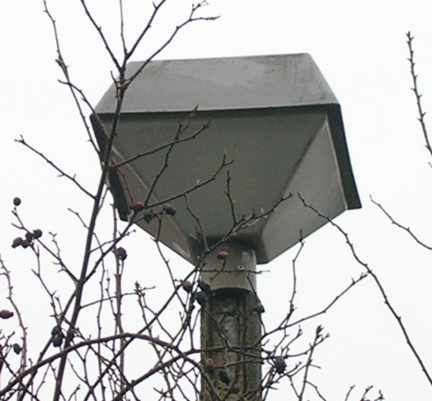 This square shaped post-top lantern is a Phosco P172. Made by CU Phosco up until the1980's, they were availble for use with 60w -200w GLS lamps, or 50w-125w MBF lamps, or 50w -120w SON lamps, or 35w SOX lamps. This intact example on a spalling concrete column was photgraphed in the entrance to a pub car park in Gedling, Nottinghamshire. My thanks to Colin Grimes for identifying this lantern.
Phosco P178 post-top lantern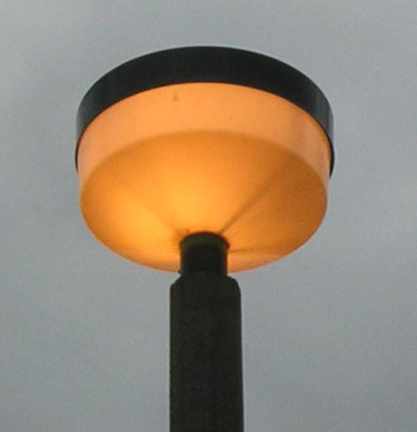 Phosco P178 post top lantern for 55w SOX lamps day-burning in Wednesbury, West Midlands, May 2006.
Phosco P222 post-top lantern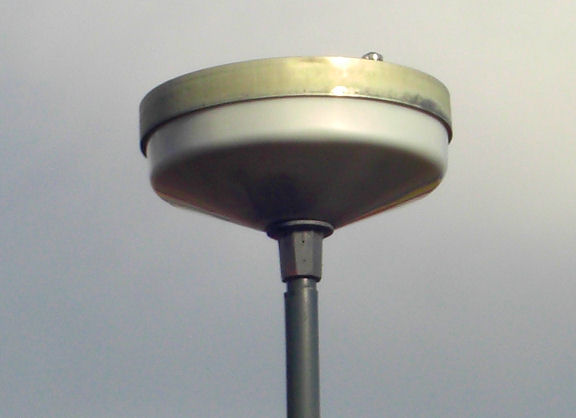 Phosco P222, this example is SON fitted, and is likely to burn two or three 250w/400 SON lamps
Phosco P222 post-top lantern on a traffic roundabout in Coventry
Phosco P220/4 High Mast lantern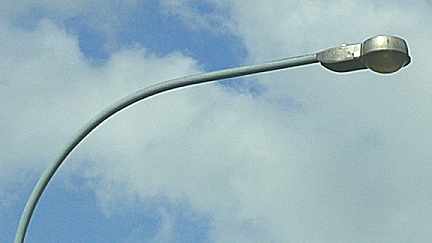 Pictured on the A45 Coventry Road, Birmingham, in August 2005, this Phosco P220/4 was originally designed for high mast lighting, so it's unusual to see the type being used as a normal streetlighting lantern. Designed for use with high wattage HPS lamps, the lantern has adjustable reflectors to maximise the light distribution. Production of the lantern has been discontinued for sometime now, the type being replaced with the Phosco P555 high mast lantern. My thanks to Colin Grimes for this information and for identifying the lantern.
Phosco P555 High Mast lantern
These P555 high mast lanterns make up one set of several that illuminate the A38/A5121 junction at Stretton, near Burton upon Trent in Staffordshire. Photo December 2006.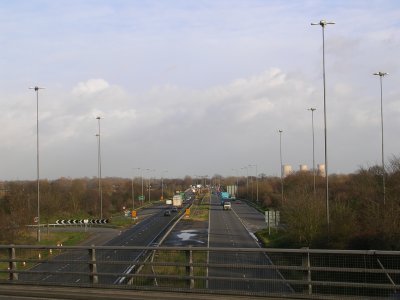 A general view of the A38/A5121 junction at Stretton showing some of the P555 high mast lanterns to be found at this location in Staffordshire. Photo December 2006.
This Phosco P567 lantern for 70w CDM-TT lamps is part of a new installation of these lanterns in Hoyland, South Yorkshire.
Phosco P678 lantern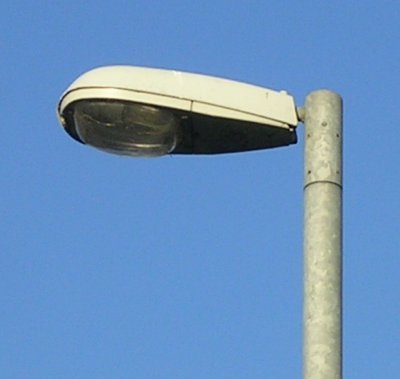 Leicestershire County Council CU Phosco P678 150w SON-T lanterns at Sawley on the Leicestershire/Derbyshire border in December 2006.
Phosco P680 'ICE' lantern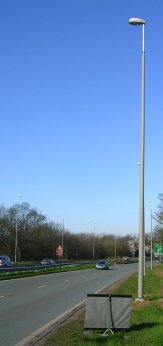 The Phosco P680 'ICE' is a newly designed lantern from CU Phosco. This example is part of an installation of P680's to be found on the A52 near Ruddington in Nottinghamshire. Photo 14th March 2007.
---
Copyright(c) 2005 Claire Pendrous. All rights reserved.
Please note that all pictures are by Claire Pendrous, or are part of the Claire Pendrous photographic collection unless otherwise stated; none of these images can be copied without obtaining prior permission.