BTH: British Thomson-Huston Co Ltd,
Rugby, Warwickshire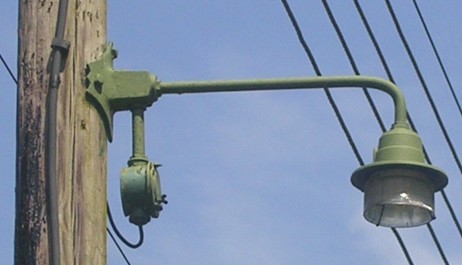 Photographed on a hot sunny day in Haywoods Heath, East Sussex, is this BTH Rural Open refractor lantern for GLS lamps, but now fitted with a MBTF blended mercury lamp.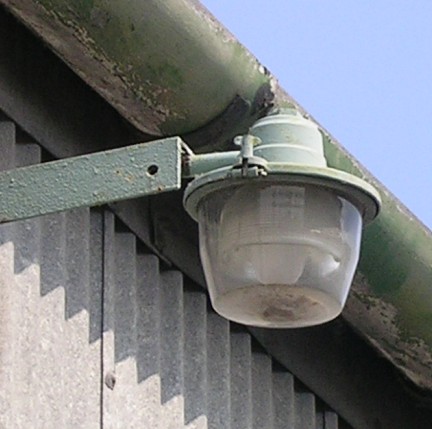 This earlier style BTH Rural Enclosed lantern with narrower stepped canopy neck is seen attached to the side of a factory in Penistone, South Yorkshire. Photo June 2006.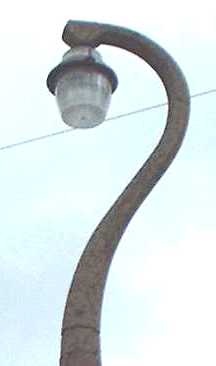 This later type BTH Rural 80w MBF lantern with wider necked canopy stood in Lane Green Road, Bilbrook, Staffordshire until 2004. It was once one of many that could be found in the Bilbrook and Codsall areas of Staffordshire, but the last remaining examples were removed as a result of a PFI renewal scheme for Staffordshire. Fortunately, this lantern was saved and is safely stored in the collection along with its Stanton swanneck bracket.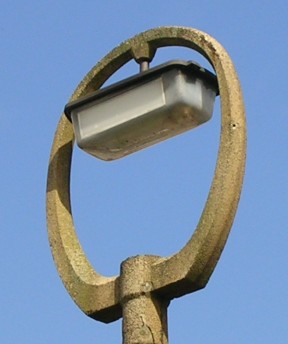 Mounted inside this wonderful concrete 'harp' bracket, this BTH Amber lantern for 85/140w SO lamps was still extant and working in Nottinghamshire in the Summer of 2005. My thanks to Simon Cornwell for identifying this lantern.
Old meets new. This BTH Amber is disconnected and awaits removal, while the new Arc-2 150w SON lantern alongside it is already in nightly service. This BTH lantern was close to a railway bridge and appears to have some kind of cut-off screening inside the bowl? Photo taken in Staffordshire in April 2006.
---
Copyright(c) 2005 Claire Pendrous. All rights reserved.
Please note that all pictures are by Claire Pendrous, or are part of the Claire Pendrous photographic collection unless otherwise stated; none of these images can be copied without obtaining prior permission.